San Miguel de Allende has been a destination for artists since the 1940's. Check out some of my favorite artists and galleries. There are often gallery openings and art walks where you can see current exhibitions and meet some of the locals.
Fábrica La Aurora
Fábrica La Aurora has a number of galleries and artist's studios, located on the site of an historic textile factory. You can still see a number of the machines from the factory as you explore. There is usually an art walk on the first Saturday of every month usually form 5pm to 8pm. Many of the studios are open on Thursdays as well and now many are offering art classes. There are a number of cafes and restaurants as well that you can enjoy during your visit.
Some of my favorites include:
M. Calederoni Studio Gallery, La Aurora 10A: Mary is one of my favorite local artists. She often puts bullfight posters or wall fragments into her work. I was excited to see her featured recently in the finale of Top Chef Boston when they moved to San Miguel to end the season.
Don't miss Victoria Pierce's gallery CSEIS (C6) which features her mixed media work. I love her work and just bought my first piece.
Skot Foreman Gallery is one of the best galleries at Fabrica la Aurora and features contemporary art from the 2oth and 21st centuries.
In my opinion the best folk art gallery in town is Galeria Atotonilco which is located must outside of town. As of December, 2019 they are opening a new showroom here in space A-5. I am excited to see it on my next trip down. Where you had to make an appointment to visit in Atotonilco, here you can visit daily except Tuesday from from 11am to 5pm!
The Belgian interior designer Dirk Jan Kinet has a really beautiful showroom in #8D.
Other galleries to check out at the Fabrica La Aurora that we like include Galeria Zoho, Nelly Lorenzo Arte Textil, Rita Torlen Gallery, Ingrid Cieslik de Zinser Galeria, Le Spezie for lighting, textiles and home accessories, James Harvey Artist with wonderful paintings and Guiness Fine Arts Gallery/Moyshen Gallery. I just met Keith Vandiver and enjoyed seeing his watercolors and other pieces at his new location in the complex.
I also just found Galeria MANUK at Fabrica la Aurora 18C. They feature some great art as well as teach classes and workshops. Check out their website for the schedule. I just took my first wine and painting class with 4 friends and had a wonderful experience!
Galeria San Francisco, #3E, is a local gallery that committed to promoting the artists who live in San Miguel. In addition to the gallery they have a space where you can take art classes in different mediums. I have taken the cold wax class of Robyn Cole, and want to take another one as soon as I can schedule it.
Other Galleries
Dawn Designs: I really love the encaustic work of Dawn Gaskill. Call her at 154-4813 to visit her home gallery. You can find original pieces, journals and even pieces printed on metal that can be hung outdoors.
Galleria Izamal, Mesones #80,  This is an artist's cooperative featuring great local artists. It has moved from Mesones #80 to a new location at Jesus #25 with double the gallery space!  Check out their website for a schedule fo classes and workshops in additon to the featured artists and exhibtion schedule. The quality of the art is excellent.
I have always liked, and bought one of my favorite paintings from, Galeria Pergola. Featuring contemporary art, it is located in the back left courtyard of the Instituto de Allende at Ancha de San Antonio 20, Local 16.
Arte Contemporaneo Gallery: Quality gallery and sculpture garden at Sollano #13.
Galleria Nudo: A contemporary art gallery featuring paintings, sculpture, encaustics, prints and lithographs. It is at Recreo #10-B.
Also on Recreo at #48 is Casa Diana Galeria de Arte. They are a quality gallery with a focus on the works by Pedro Friedeberg and the photography of Deborah Turbeville.
Dan Rueffert: One of my favorite artists is now showing in the gallery Sollano 15.
Made by Anado/Casa las Ranas: This is one of my favorite places just outside of town. Anado McLauchlin and Richard Shultz have created an amazing art space which is so fun to see and explore. Check out the studio, the house and their collections, take an art class or visit the Chapel of Jimmy Ray with temporary exhibitions. You will be amazed!
Centro Cultural Ignacio Ramierez El Nigromante – Bellas Artes: A branch of the Instituto Nacional de Bellas Artes in Mexico City, it was recently renovated and just reopened. They often have exhibitions of contemporary Mexican and local artists, classes, concerts, lectures and films. But the highlights are some amazing murals that you should add to your San Miguel list. There are four by Pedro Martinez from 1939 to 1941, one by Eleanor Cohen from 1941 and an entire room painted by well-known Mexican artist David Alfaro Siqueiros, painted in 1948. Siqueiros's work is amazing and covers the ceiling and all walls.
A short walk from Fabrica la Aurora is the Col. Guadalupe neighborhood. Make sure to wander and see some of the great street art that is being created by local as well as Mexico City artists. Tours are available several days a week through Muros En Banco Distrito de Arte.
On the way an art walk at Fabrica La Aurora, I found the new gallery location for Ascender Arte Fino at Calzado de la Aurora #48A. This colorful gallery features the paintings of David Vazquez and Quinta Irma hand painted ceramics. They will be soon offering ceramics classes.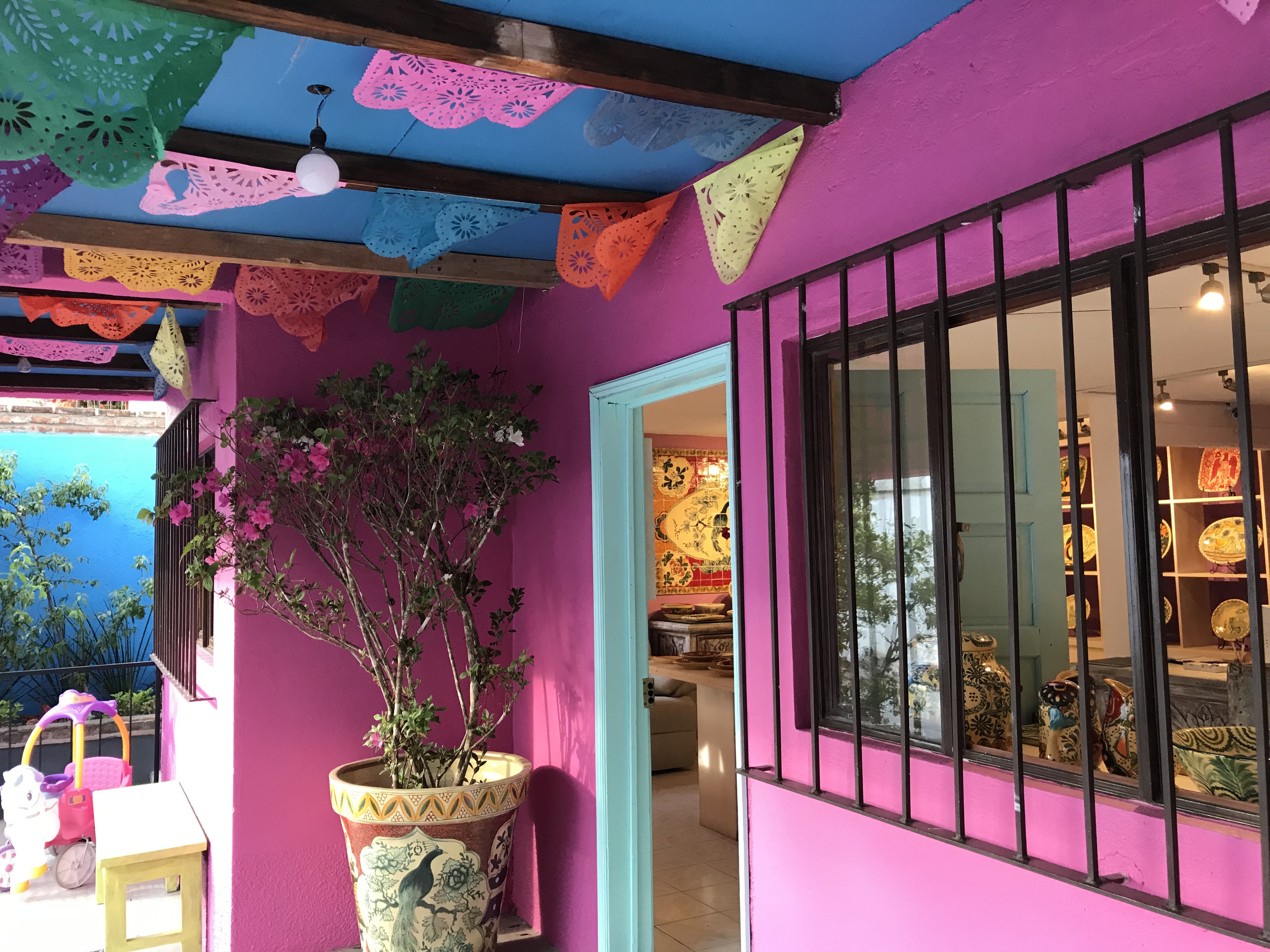 Bob Glaze is the Creator and Curator of Globalphile.com. He's traveled to over 900 cities in 43 countries around the world. He has a passion for culture, art, architecture and great design and curates his site though a creative lens.